C/N Historical Museum-General Information
How to Reach Us
Cable/Namakagon Historical Museum
13405 Spruce St.
PO Box 44
Cable, WI 54821
Phone: 715-798-5070
Email: info@cablehistorymuseum.com
Hours of Operation
The Cable/Namakagon Historical Museum is open from Memorial Day until Labor Day – Tuesday through Friday, 11:00 AM – 3:00 PM and Saturday, 10:00 AM – 1:00 PM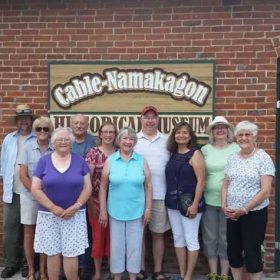 Who to Contact
General Information:
Carol Elliker @ 715-798-3706
School or Other Tours of Museum:
Carol Elliker @ 715-798-3706
Nova Kane @ jimnova@cheqnet.net
We look forward to seeing you!
We're located one block off Hwy 63 at 13405 Spruce St. in Cable, Wisconsin which is in Bayfield County (northern WI).
You can also find us one block off Cty. M on Kavanaugh Rd to the north.
*Click Here To See Our Location via Mapquest.
*Interesting facts…Bayfield County is the only county in the State of WI that doesn't have traffic lights!
*Lake Owen was named the healthiest of Wisconsin's 15,000 lakes and is one of the top 5 clearest lakes in Wisconsin.
*The Cable Area is AKA "Trail Town USA"
Other Information
The Cable/Namakagon Historical Museum is a member of the Cable Area Chamber of Commerce, the Bayfield County Historical Society, and the Wisconsin Historical Society.
While in the Cable area stop in and visit our neighbor too. The Cable Natural History Museum is just around the corner from us on Cty. M. (2 blocks away) www.cablemuseum.org
Interested in additional information about Wisconsin history? Visit the Wisconsin State Historical Society website!